Sarbanes-Oxley Act Challenge
The Sarbanes-Oxley Act (the "SOX Act"), the most significant financial legislation in nearly 70 years, is intended to be "a massive restructuring to the regulatory system governing US capital markets" that would improve the quality of financial reporting and disclosures. The most challenging aspects of the SOX Act are:
Management have to devote significant time and resources to ensure compliance;
Management have to evaluate and report annually on the effectiveness of internal control over financial reporting; and the external auditors should opine on management's assessment of the effectiveness accordingly;
The board of director and audit committee should have oversight of management's assessment.
What We Can Do in SOX404 Compliance
SOX404 attestation is based on adequate documentation of Internal Control with sufficient evidence. As part of SOX404 assessment, management must document, test and evaluate following five components of internal control.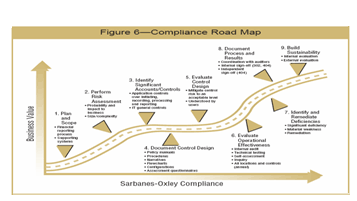 We follow the Compliance Road Map illustrated in following chart and provide direction for management to meet the challenges of the SOX Act.
Control Environment
Risk Assessment
Information and Communication
Control Activities
Monitoring
We execute SOX404 project in four stages:
1. Planning and Scoping
2. Documentation
3. Testing
4. Remediation and updating
In addition to Trainings and Meetings during each stage of the SOX404 project, our team will also assist the management to establish and maintain adequate and effective internal control activities on:
a) Company Level Controls
b) IT General Controls
c) Process Level Controls
Our Experiences of SOX404 Compliance Service
We are adaptable with our knowledge and experience to assist the management to construct solid compliance road map and approach, and to deliver high quality documentation. In the past few years, we have offered SOX404 compliance services to:
OmniVision, China Unicom, Stonepath Logistics, Honeywell-CEA, Concord Camera, MindShare Media, Lucite Chemical, Gemplus, Estee Lauder, General Electric, Stanley Works...
Contact Us
ThinkBridge Business Consulting
ThinkBridge CPAs
info@think-bridge.com
ShangHai Office
Unit 03-06, 9F Baohua Center Guangzhong West Road, JingAn District
Shanghai 200072
Tel: 86(21) 6375 8318
Fax:86(21) 6375 8328
BeiJing Office
Unit B23,8/F, CP Centre,
CBD Core Area Z14, Guanghua Road,
Chaoyang District,
Beijing, P.R.China 100020
Tel:86(10) 67765082